Furry Murray and The Bow Wow Band perform "Dog About Town" for Commerce Bank's 3rd Annual Carnivale for the Dogs in Philadelphia's Rittenhouse Square Park. Dogtunes.com is wagging and wailing in The City of Brotherly Love!
---
"TAILS OF THE CITY" chosen as finalist in the DWAA (Dog Writers Association of America ) Annual Writing Competition - the winner will be announced February 12th in conjunction with the Westminster Dog Show.
---
A short note from Furry Murray
Paul Castle, CBC's radio personality from Saint John, New Brunswick, Canada called me up in response to a listener's question about why his Dachshund smells like popcorn. Listen to the answer in Real Audio

---
Watch this video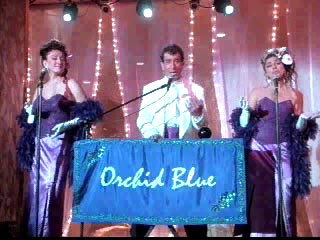 SEE Murray, with his lounge act, Orchid Blue in the feature movie "Looking For An Echo" starring Armand Assante. The lovely singers are Amanda Homi (right) and Machan Taylor (left)
---
Read the Billboard Review:
Click here for Adobe PDF
or right-click above and
save file to desktop.
Click here for jpeg image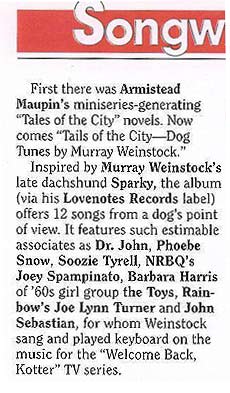 ---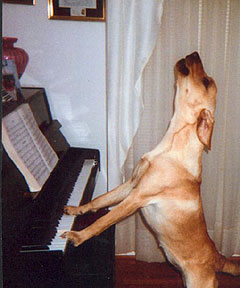 That's Billy playing the piano - the picture was taken and sent
in by Thomas.
---
earlier ...
Carnivale for the Dogs headed for Philadelphia November 12th.
Murray Weinstock & The Bow Wow Band playing songs from the Dog CD, Tails of the City. It's just one of the treats at the Commerce Doggie Bar to be held from10:00 am-2:00 pm in Rittenhouse Square Park, November 12th.
more
---
from last month... Hear Murray's debut of "The Hollow Wiener Dogs - Frank 'n Stein," on News Channel 12's Pet Talk with Lauren Collier!

Meet him afterwards at the 14th Annual Osborne/Jenks Pet Show, Vendor Booth # 921 at the Connecticut Expo Center in Hartford, CT Saturday & Sunday, October 29-30, 11:00AM-6:00PM!

Furry Murray will meet & greet, selling & signing Tails of the City CDs and T-shirts. Murray will also demonstrate dog songs! (from a dog's point of view).

---
Live in Austin with John Hagen (of the Lyle Lovett's Band)
and Elaine Caswell
Catch Murray in Austin, Texas' in-store performance at Waterloo Records on March 3rd, then at the Waterloo Park www.bowwowfestival.com on March 6th with Elaine Caswell, singing songs from the new dog-inspired CD, Tails of the City with John Hagen from the Lyle Lovett Band. Also on March 7th at Threadgills in Austin.